Social media marketing is a form of digital marketing that leverages the power of popular social media networks to achieve your marketing and branding goals. But it's not just about creating business accounts and posting when you feel like it. Social media marketing requires an evolving strategy with measurable goals and includes:
Maintaining and optimizing your profiles.
Posting pictures, videos, stories, and live videos that represent your brand and attract a relevant audience.
Responding to comments, shares, and likes and monitoring your reputation.
Following and engaging with followers, customers, and influencers to build a community around your brand.
Social media marketing also includes paid social media advertising, where you can pay to have your business appear in front of large volumes of highly targeted users.
Benefits of social media marketing
With such widespread usage and versatility, social media is one of the most effective free channels for marketing your business today. Here are some of the specific benefits of social media marketing:
Humanize your business: Social media enables you to turn your business into an active participant in your market. Your profile, posts, and interactions with users form an approachable persona that your audience can familiarize and connect with, and come to trust.
Drive traffic: Between the link in your profile, blog post links in your posts, and your ads, social media is a top channel for increasing traffic to your website where you can convert visitors into customers. Plus, social signals are an indirect SEO factor.
Generate leads and customers: You can also generate leads and conversions directly on these platforms, through features like Instagram/Facebook shops, direct messaging, call to action buttons on profiles, and appointment booking capabilities.
Increase brand awareness: The visual nature of social media platforms allows you to build your visual identity across vast audiences and improve brand awareness. And better brand awareness means better results with all your other campaigns.
Build relationships: These platforms open up both direct and indirect lines of communication with your followers through which you can network, gather feedback, hold discussions, and connect directly with individuals.
Social media marketing statistics
With regard to the benefits above, don't just take our word for it. Let's take a look at some social media marketing statistics that prove its power:
The average US adult spends 2.25 hours on social media every day.
Over 70% of people who have a positive experience with a business on social media will recommend that business to their networks.
Facebook users click on 12 Facebook ads on average every month.
81% of people use Instagram to research products and services.
Nearly 80% of Twitter users feel more positive about a business when they get a response to their tweet.
4 out of 5 people on LinkedIn drive business decisions.
46% of TikTok users engage in the app without any other distractions.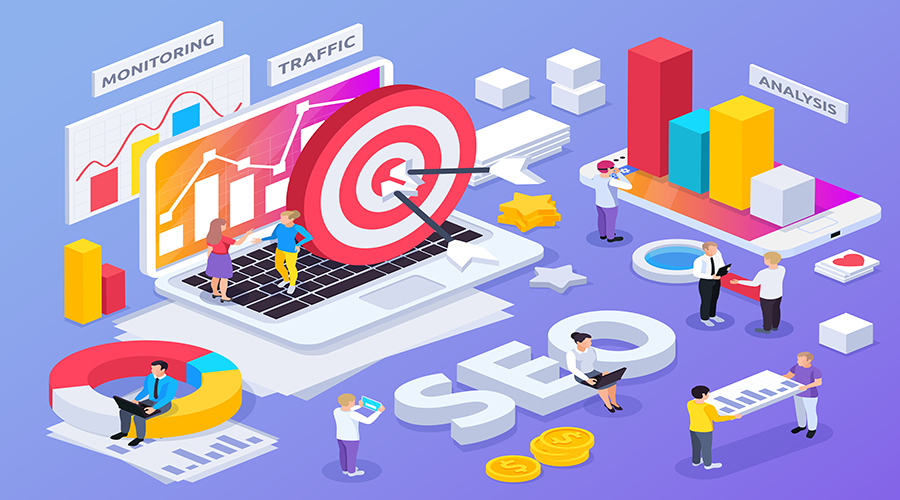 What is search engine marketing?
Search engine marketing (SEM) is a digital marketing strategy used to increase the visibility of a website in search engine results pages (SERPs).
While the industry term once referred to both organic search activities such as search engine optimization (SEO) and paid, it now refers almost exclusively to paid search advertising.
Search engine marketing is also alternately referred to as paid search or pay-per-click (PPC).
Why is SEM important?
With an increasing number of consumers researching and shopping for products online, search engine marketing has become a crucial online marketing strategy for increasing a company's reach.
In fact, the majority of new visitors to a website find it by performing a query on a search engine.
In search engine marketing, advertisers only pay for impressions that result in visitors, making it an efficient way for a company to spend its marketing dollars. As an added bonus, each visitor incrementally improves the website's rankings in organic search results.
Since consumers enter search queries with the intent of finding information of a commercial nature, they are in an excellent state of mind to make a purchase, compared to other sites such as social media where users are not explicitly searching for something.
Search marketing reaches consumers at exactly the right time: when they are open to new information. Unlike the majority of digital advertising, PPC advertising is non-intrusive and does not interrupt their tasks.
Results are immediate with SEM. It is arguably the fastest way to drive traffic to a website.
SEO stands for "search engine optimization." In simple terms, it means the process of improving your site to increase its visibility when people search for products or services related to your business in Google, Bing, and other search engines. The better visibility your pages have in search results, the more likely you are to garner attention and attract prospective and existing customers to your business.
How does SEO work?

Search engines such as Google and Bing use bots to crawl pages on the web, going from site to site, collecting information about those pages, and putting them in an index. Think of the index like a giant library where a librarian can pull up a book (or a web page) to help you find exactly what you're looking for at the time.
Next, algorithms analyze pages in the index, taking into account hundreds of ranking factors or signals, to determine the order pages should appear in the search results for a given query. In our library analogy, the librarian has read every single book in the library and can tell you exactly which one will have the answers to your questions.
Our SEO success factors can be considered proxies for aspects of the user experience. It's how search bots estimate exactly how well a website or web page can give the searcher what they're searching for.
Unlike paid search ads, you can't pay search engines to get higher organic search rankings, which means SEO experts have to put in the work. That's where we come in.
Our Periodic Table of SEO Factors organizes the factors into six main categories and weights each based on its overall importance to SEO. For example, content quality and keyword research are key factors of content optimization, and crawlability and speed are important site architecture factors.
The newly updated SEO Periodic Table also includes a list of Toxins that detract from SEO best practices. These are shortcuts or tricks that may have been sufficient to guarantee a high ranking back in the day when the engines' methods were much less sophisticated. And, they might even work for a short time now — at least until you're caught.
We've also got a brand new Niches section that deep-dives into the SEO success factors behind three key niches: Local SEO, News/Publishing, and Ecommerce SEO. While our overall SEO Periodic Table will help you with the best practices, knowing the nuances of SEO for each of these Niches can help you succeed in search results for your small business, recipe blog, and/or online store.
The search algorithms are designed to surface relevant, authoritative pages and provide users with an efficient search experience. Optimizing your site and content with these factors in mind can help your pages rank higher in the search results.